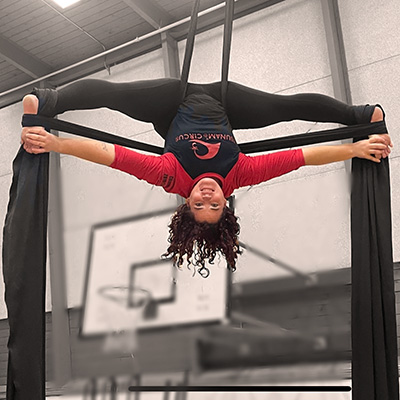 Chantelle Nickel
Lead Rigging Technician and Circus Coach
Chantelle began her circus journey in 2018, when she signed up to take some aerial classes. Soon after that she became passionate about improving her skills and this led to her wanting to share those passions with others. In 2019 Chantelle started coaching Tsunami Circus, and also took on the oversight for the rigging elements. She has a very diverse background with lots of rigging knowledge and a wide variety of instructional experience.
Chantelle is registered with the National Coaching Certification Program (NCCP) and has completed the Gymnastics Foundations course working towards certification. She is a Salt Spring Fire Service Lieutenant, provides rope rescue training for the Fire Department, has First Responder Level First Aid Certification, and Certified Course NFPA 1006/1670 Rope Rescue Technician training, as well as Aerial rigging training from Night Owl Circus Arts
Chantelle has called Salt Spring Island home since 2009 and likes to use her free time to play violin, rock-climb Mt. Maxwell, or enjoy many of the hikes on this beautiful island.
Chantelle's greatest desire is to see others reach their greatest potential, whatever that is, and to help them get there.