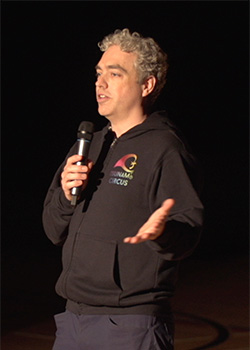 James Cowan
Circus and Gymnastics Coach
James is currently the chair of the Saltspring Gymnastics Association board of directors and is a long time circus/gymnastics parent.
His gymnastics training started as an adult in Vancouver at UBC and he started coaching in 2013 on Salt Spring. James joined the Tsunami Circus coaching team in 2017 and coaches mostly floor, acro, handstands, slackline, juggling & props, unicycling and tumbling. He has done coach training with Gravity & Other Myths, Circus West and UBC Gymnastics. James operates the audio and lighting for the yearly circus show and helps out behind the scenes with logistics and spreadsheets.
He is also a full time paramedic on Salt Spring for the BC Ambulance Service.