Tickets still available for all 3 shows at West of the Moon. Cash only please!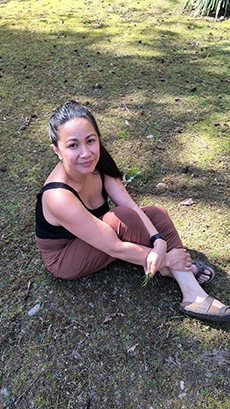 Joselyn Porciuncula
Gymnastics Coach
Joselyn is a new member of the team. As a child she was a dancer and competitive gymnast, and as a young adult, a gymnastics coach. Joselyn has informally assisted coaches and coached kids' gymnastics camps during summers during her university years. Growing up, she trained with Leading Edge Gymnastics, in Everett, Washington and started recreational gymnastics at the age of 8. Catching on quickly, she chose the competitive gymnastics path which included both compulsory and optional routines. Joselyn competed in all events (floor, beam, vault, bars) and reached Level 10. She also competed for two and a half seasons with the Everett High School Gymnastics team. Joselyn regularly medaled in competitions and was ranked as one of the top gymnasts in Washington State.

A major knee injury ended Joselyn's gymnastics career when was 16. For years after, she experienced chronic ankle sprains and back pain. As a result, Joselyn highly regards following safety protocols and procedures, improving one's mental and physical strength and literacy, such as listening and caring for one's body, as well as respectful communication to oneself and with others. Joselyn recently obtained the Respect in Sport Certificate and has several other relevant credentials, such as an undergraduate degree in communications and a certificate in bodywork and massage.

Joselyn moved to the island in 2018 with her family. Outside of the gym, you will find Joselyn spending time with her family and her animals. Joselyn also has many projects to help others and curiosities - she enjoys being active and making connections with others and with nature, while striving to focus on the present and the things that create joy. She is a dreamer and is always excited to learn and try something new!