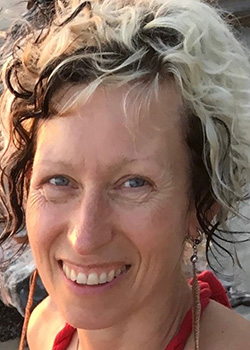 Kira Schaffer
Coach Coordinator and Circus/Gymnastics Coach
Kira Schaffer is a professional instructor/facilitator, performer, choreographer and circus rigger. She coaches classes in both gymnastics and circus with Salt Spring Circus and Gymnastics. Her specialties include aerial dance, stilt-walking, site specific dance and dance with props, particularly fire performance props. In teaching, Kira focuses on injury prevention through correct body alignment and safe progressions in skill building as well as encouraging self-expression, authenticity and mindfulness in movement. Kira encourages students to find their own style, to connect with what it is they have to express. Kira has taught workshops and regular classes in aerial dance, fire dance, performance creation, mindful movement, dancing within natural ecosystems, site-specific dance creation, and mixed abilities aerial dance. Her students range from beginners to professional dancers and circus performers.
She is committed to nurturing spaces that foster the development of self-empowerment, curiosity, creativity and fun!
Kira has been teaching professionally for over 20 years. Her teacher training includes workshops offered by teacher trainers from Nimble Arts circus school in Vermont, Fred Deb of Drapés Aériens, France, and the People Moving integrated dance instruction for people with mixed abilities, East London Dance. Kira was trained in circus rigging through workshops offered by Boulder's International Aerial Dance Festival, rock climbing rigging courses as well as many years mentorship with professional circus riggers in the industry. Kira's movement training includes may years of workshops with various circus and dance professionals, including Underground Circus, Aeriosa Dance, as well as training in contemporary dance, contact dance, clown and theatre.
In 2000 Kira founded Firebelly Performance Society, a professional performance troupe based out of Vancouver. Kira has coordinated shows both as a solo artist and with her troupe in a variety of venues, including the Vancouver International Dance Festival, Vancouver's Cultural Olympiad, and the Olympic Games in both Greece and Athens. In addition to putting on shows for many corporate events and festivals, Kira and her troupe have worked on many community engaged projects such as the Rainforest Circus on the Sunshine Coast with Deer Crossing the Art Farm, the Roundhouse Historical Turntable Project (funded through the Roundhouse Arts And Recreation Centre and the City of Vancouver) and the Northern Lights Circus, a Vancouver symposium for social activists combining circus with activism.