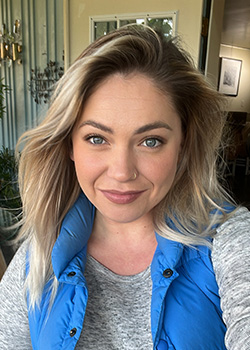 Sarah Robinson
Lead Gymnastics Coach
In one way or another, Coach Sarah has been a part of Salt Spring Island Gymnastics Association for almost twenty years.
Growing up in this sport has been a huge part of her life. She trained as a young gymnast in the middle school and at Fulford hall. Becoming a coach and being able to share all she has learned through practice and training is such a dream for her. Sarah has been coaching gymnastics for nine years so far and has her Comp One (Level Two) certifications. She loves working with kids of all ages and abilities and is excited to meet you!
Saltspring Circus and Gymnastics has so much to offer to our community. Sarah cannot wait to watch them grow and see how far this club will go.
Sarah is Lead Coach for Teddy Bears and Jelly Beans, Dragonflies and Butterflies, Jumping Jacks and Jumping Jills, Grasshoppers and Tigers, Intermediate Gymnastics and the Adapted Class. Sarah also coaches tumbling and acro at many circus classes.